Happy Spring OCB Peeps! Hope Spring is treating you well. I cannot believe April is here!!! Only a few more weeks and some of us will be doing the End of Year dance!!!
I thought I would throw some spring your way in the form of Buggy Fun with Fractions!!!
I have two bug themed fraction games I wanted to share with you. Hopefully you will print them out and use then in small groups or a center for some extra practice and review of fractions.
My first game is a Buggy Fraction Board.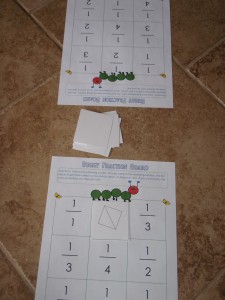 All you need to do is print the file and cut the playing cards out.
Play in groups of 2 or 3. Students take turns drawing a fraction card.

They then place the card they drew on a matching fraction.
Just like Bingo, the first to get down, across, or diagonal wins.
In the picture below, the student drew 1/1 and will place the picture of the fraction on the fraction that represent it.
The second game is a Crawling Fractions Game-board. Just print out the game cards with pictures of caterpillars colored to match a fraction. Cut those and lay them face down on the game board.

Two students can play together. They take turns drawing a card and naming the colored caterpillar fraction. The player then moves marker to the nearest matching fraction. First person to reach finish, wins!

For added fun, buy a pack of plastic bugs at your Dollar store and allow your students to use those as markers.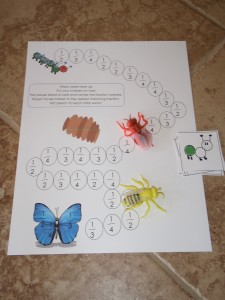 © 2011-2015 PEN Group Online, Inc.