Hey ya all!!! My last post on the OC blog until 2012!!! Hopefully you find my last 2011 post useful! If you like to rhyme, you surely will!!!
In the spring I have the opportunity to speak to parents of future Kindergartners. I usually speak to the future Kindergarten parents on activities that they can create to encourage learning with their future scholar! Of course I always hit the topic of phonemic awareness. Phonemic awareness describes the awareness skills used to detect, blend, segment and manipulate individual sounds in words. Included in that is rhyming! Which I feel is one of the most important skills for literacy development. Rhyming helps children learn about word families such as cat, mat, sat, fat, and rat. Rhyme also teaches children who are learning to read about the patterns and structures of bothspoken and written language. Added bonus: rhyming is fun!
Here are a few ideas I share that can be used both at home and by the teacher in school.
Four of my faves!!!
Rhyme everywhere... at home, in the car, in the bath tub, and while at the grocery store.

Use rhyming book like "Each Peach, Pear, Plum, ", "Hop On Pop", and "Bears in Pairs" to play what is the next word.

Play 'I Spy' using rhyme - "I spy with my little eye something that rhymes with took"

Make up rhyming nick names for friends and family
Daddy Paddy Waddy
Caitlin Baitlin Faitlin
Sam Bam Wam
FUN PRINTABLES!!!
Do Erase a Rhymes
I have a cute one for this time of year that I like to do with the kiddos. You can click here to read how these work and to download the files!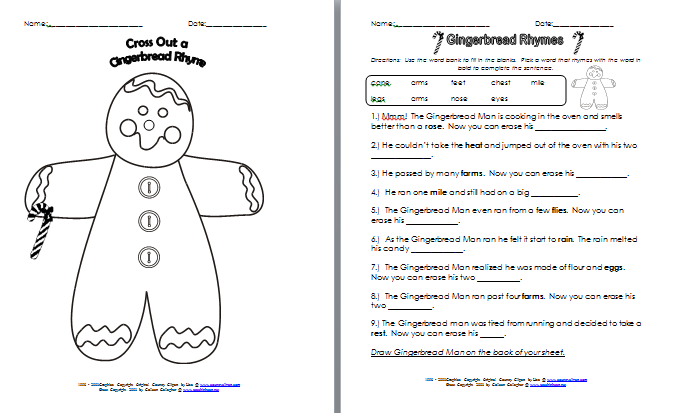 Play Rhyming games whenever you can! Here is a Snowman Rhyme Activity. You can print the file here and then use it in two ways.
1.) Have the student sort the words that rhyme with snow.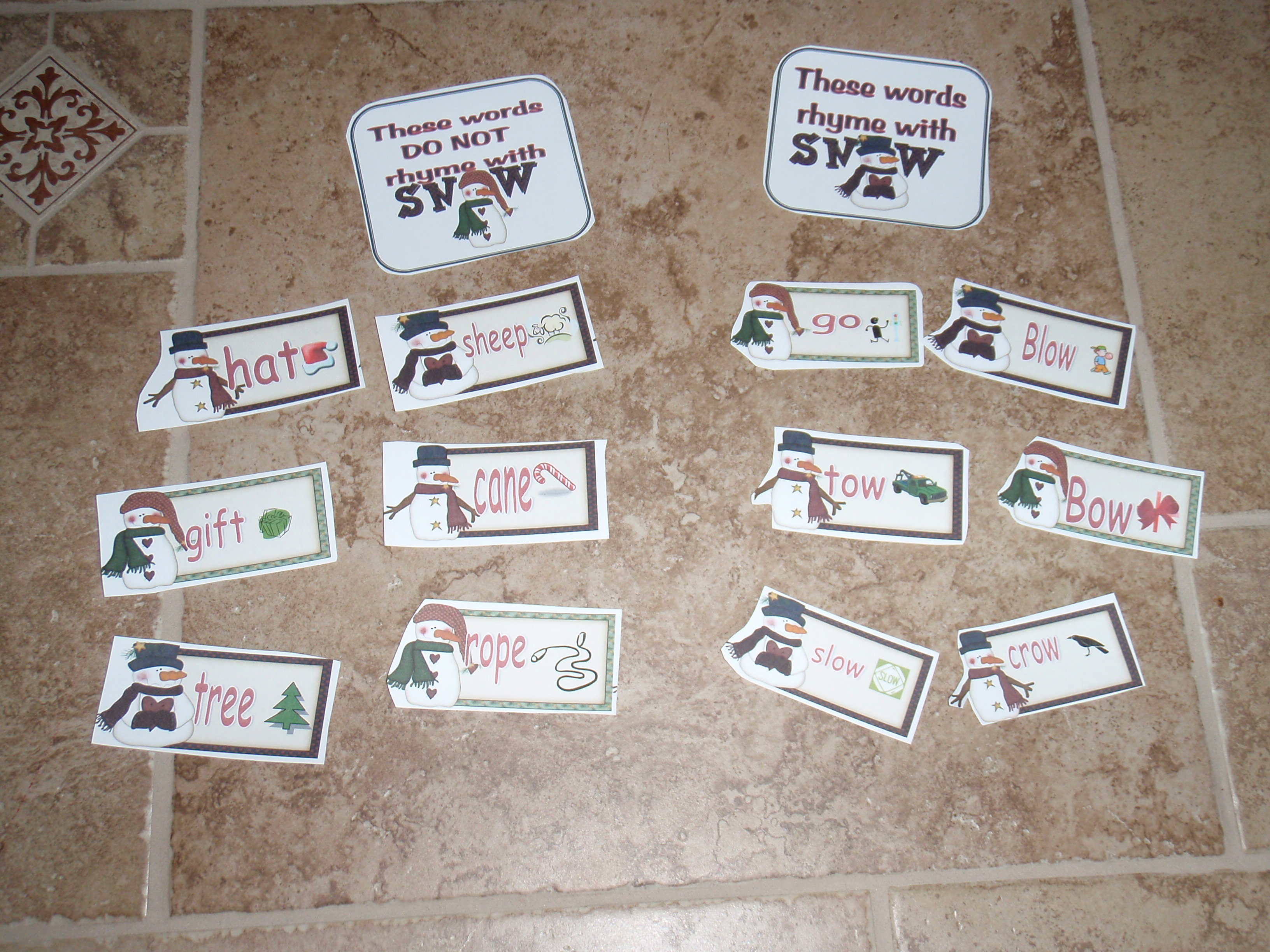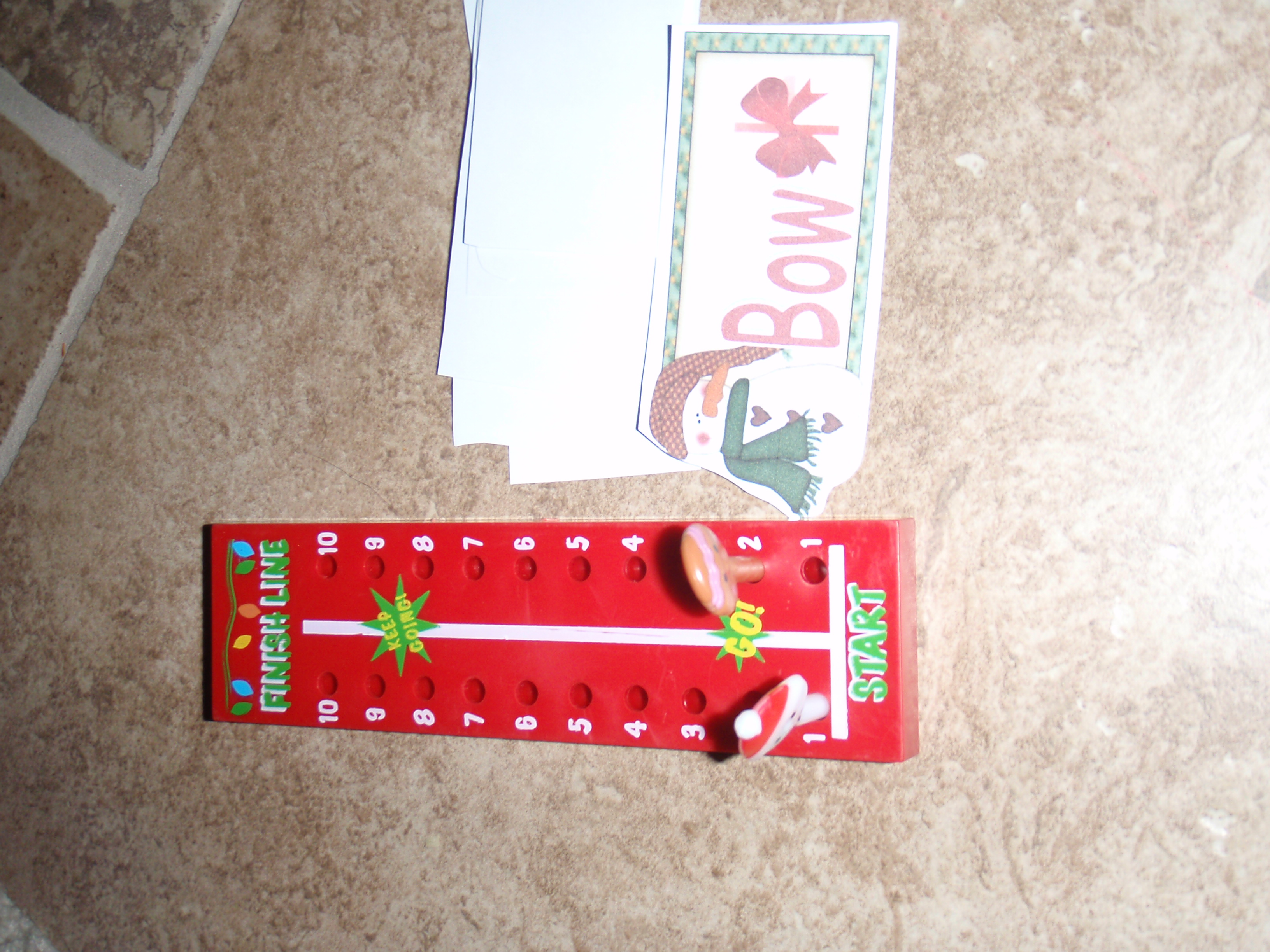 Or grab a dollar store peg board game and place cards face down. If a child draws a card with a word that rhymes with snow, they get to move one space. If the word does not rhyme with snow, they stay where they are. First person to make it to the finish wins!!!
Don't Forget Nursery Rhymes!!!
Research shows that the ability to recite nursery rhymes has been found to be one of the best indicators of future reading success. Through nursery rhymes, children learn the patterns of spoken language--i.e. phonemic awareness. These phonemic awareness skills provide the framework for understanding the next level of language development--understanding the graphemic system, or print.
Say nursery rhymes and leave out the rhyming words.
JAck and Jill went up the _________.
To fetch a pail of water when.
Jack fell down and broke his _______.
Nursery Rhymes and Activities To Match
http://www.first-school.ws/theme/nurseryrhymes.htm - Research is showing that children who come to school know some Nursery Rhymes are more successful at gaining early reading skills. Here is a fun site. It includes the rhymes and activities to match them!
Collection of Nursery Rhymes
http://www.zelo.com/family/nursery/index.asp - Looking for a certain Nursery Rhyme?  This site has many!!!
Hopefully this post has given you some fresh ideas of ways you can add some fun rhyming at home or at school!!! Have a wonderful Christmas!
Colleen
© 2011-2015 PEN Group Online, Inc.